Asal saling menguntungkan .. Selama ini kelihatannya Singapura yang jauh lebih untung dari Indonesia. Mulai dari urusan minyak, karena kebodohan, kedunguan , kedengkian ditambah berkeliarannya maling (mafia migas) di Indonesia walhasil  negeri pulau itu bisa menjadi eksportir minyak ke Indonesia, luar biasa bukan.. saya sih agak malu.. yang nggak pernah malu mungkin presiden SBY  ya.. 10 tahun cuek aja.. dikadalin oleh mafia minyak..
Yang paling nelangsa kalau main ke Singapura, jika kita menoleh pulau Batam..jika malam tiba, Singapura begitu cantik karena listrik yang berlimpah dari Natuna.(di jual murah oleh Indonesia ..jamannya Megawati (bos nya Pak Joko),  sedangkan Batam kelihatan redup dan temaram karena PLN tidak dapat memenuhi kebutuhan listri di pulau tersebut..  malu dan mengelus dada.
Saya sih hanya bisa berharap ke penguasa negeri ini,  tidak mengulangi kesalahan dan kedunguan masa lalu jika bekerja sama dengan negara pulau ini..
Senin 14 Nov 2016, 19:42 WIB
Jokowi: PM Singapura Berterima Kasih atas Penanganan Asap dan Terorisme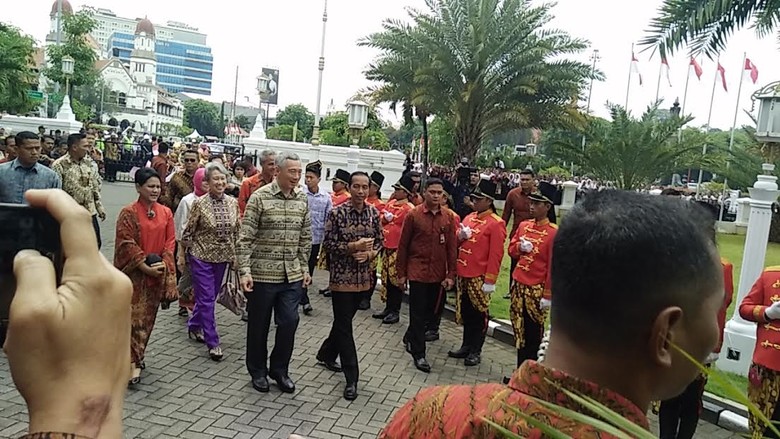 Foto: Bagus Prihantoro Nugroho
Jakarta – Selain bicara soal industri dan investasi, Presiden Jokowi dan PM Singapura Lee Hsien Loong juga membahas isu lain. Salah satunya tentang bencana kabut asap.
"Kita bicara masalah asap yang Perdana Menteri Lee juga terima kasih karena tahun ini jauh lebih terorganisir dan juga penegakan hukum lebih tegas," ujar Jokowi di Kawasan Industri Park by the Bay, Kendal, Jawa Tengah, Senin (14/11/2016).
Seperti diketahui, bencana kabut asap tahun lalu menuai kritik baik dalam negeri maupun luar negeri. Setelah asap berhasil ditanggulangi, proses hukum pun dilakukan dan menetapkan sejumlah tersangka.
Selain soal asap, Jokowi dan Lee juga membahas soal terorisme. Singapura berterima kasih pula atas upaya Indonesia memerangi terorisme.
"Terorisme juga saya kira tukar menukar informasi mengenai hal-hal yang berkaitan dengan terorisme, saya kira terus dilakukan. Dan tadi PM Lee terima kasih karena kita bisa tangkap rencana teroris untuk melemparkan roket ke Singapura," ujar Jokowi.
(bpn/jor)
+++++++++++++++++++++
Indonesia, Singapore agree to boost economic cooperation
Ina Parlina

The Jakarta Post
Semarang, Central Java |

Mon, November 14, 2016

| 02:55 pm
Closer ties – President Joko "Jokowi" Widodo (second from left), accompanied by First Lady Iriana Joko Widodo (left), shakes hands with his Singaporean counterpart Prime Minister Lee Hsien Loong (second from right), accompanied by his wife Ho Ching, prior to their bilateral meeting in Semarang, Central Java, on Nov. 14. (Courtesy of the Presidential Office/Laily Rachev)
President Joko "Jokowi" Widodo and his Singaporean counterpart Prime Minister Lee Hsien Loong agreed to boost economic cooperation between the two countries during their first Leaders' Retreat in Semarang, Central Java, on Monday.
In the meeting, Jokowi praised Singapore as "one of Indonesia's key partners in trade and investment", while Lee said bilateral relations between the two nations were "in good shape".
After the meeting, Jokowi and Lee are set to inaugurate the Kendal Industrial Park on the outskirts of Semarang. It is expected that the industrial park will create about 4,000 jobs in Semarang and Kendal.
"So it's a win-win outcome for Singapore and Indonesia," Lee told a press conference after the bilateral meeting.
Singapore's investment in Indonesia amounted to US$7.1 billion between January and September this year, increasing by 44 percent from the same period last year.
Jokowi also told Lee that the Indonesian government would continue to carry out economic and legal reforms in a bid to create a more competitive economy.
The two leaders also signed a Memorandum of Understanding on cooperation in tourism, which could open up new possibilities to develop new tourist destinations in Indonesia.
The meeting was initially scheduled for August but was postponed after Lee suffered from a sudden drop in blood pressure. (ebf)