Kamis 16 Mar 2017, 13:54 WIB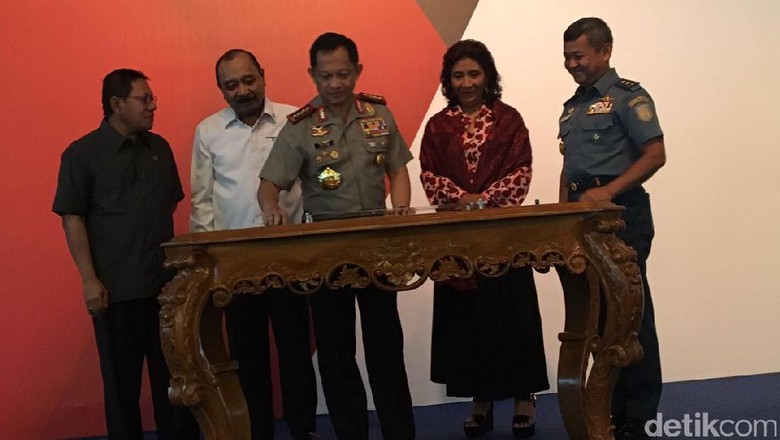 Foto: Muhammad Idris/detikFinance
Jakarta
– Kapolri, Jenderal Tito Karnavian, menyebut koordinasi antar instansi adalah salah satu hal yang paling rumit di negara ini. Kalau pun ada koordinasi dilakukan, umumnya hanya berhasil di tataran kebijakan strategis. Kenyataan di lapangan, tetaplah berjalan sendiri-sendiri.
Kendati demikian, hal tersebut tampaknya tak berlaku bagi Menteri Kelautan dan Perikanan, Susi Pudjiastuti. Menurutnya, dalam Satgas Illegal Fishing yang diketuai Susi, meski ada banyak instansi dari sipil, polisi, dan militer, namun koordinasinya justru berjalan cukup baik.
Hal itu diungkapkan Tito saat membuka dan meresmikan The International Fishforce Academy of Indonesia (IFFAI), di kantor Kementerian Kelautan dan Perikanan (KKP), Jakarta, Kamis (16/3/2017).
"Di negara kita kata koordinasi itu barang yang mudah diucapkan, tetapi sulit dilaksanakan. Di Indonesia itu sulit diwujudkan, apalagi banyak stakeholder di dalam pemberantasan illegal fishing," ucap Tito.
"Karena semua instansi punya dasar hukum beda-beda, rezim yang beda-beda, operasional gerak sendiri-sendiri, ego sektoral, satu instansi punya kewenangan yang melampaui atau bahkan overlaping dengan instansi lainnya," katanya lagi.
Diungkapkannya, Susi yang ditunjuk jadi ketua Satgas yang membawahi TNI AL, Polri, Bakamla, sampai Bea Cukai ini bisa membuat organisasi pemberangus illegal fishing ini berjalan dengan koordinasi yang sangat baik.
"Enggak ada jalan lain selain duduk bersama, tapi bukan hanya pada keputusan strategis, tapi juga tahap operasional. Ini menurut saya pertama kalinya terjadi sejak Indonesia merdeka. Terima kasih banyak Bu Susi," ungkap mantan Kapolda Metro Jaya ini.
Tito menuturkan, hal ini pula yang mendasari perlunya dibentuk akademi khusus untuk pelatihan aparat penegak hukum di laut lewat IFFAI. Sehingga aparat di lapangan dari banyak instansi ini bisa bekerja sama dengan baik, tak hanya di level strategis tapi juga di lapangan.
"Makanya saya iri dengan Singapura, ada akademi di mana 7 instansi di tempat yang sama. Memang gedung beda-beda antara sipil dan non sipil, tapi ketika makan siang kumpul. Jadi yang terpenting itu ada personal relationship dan sharing informasi," jelas Tito. (idr/ang)