Suherdjoko

The Jakarta Post
Semarang, Central Java   /   

Tue, June 5, 2018

 

  /   10:58 am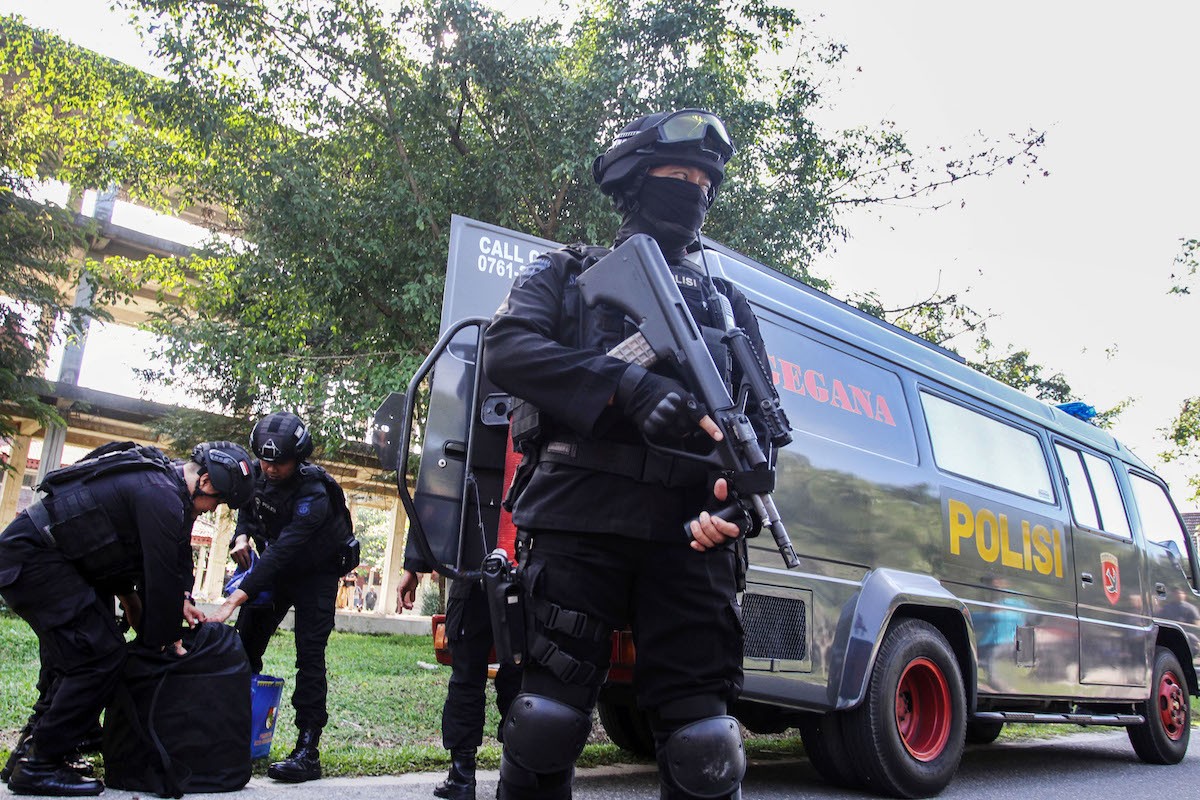 Personnel of the National Police's Densus 88 counterterrorism squad and the Riau Police's Gegana bomb squad secure materials as evidence during a raid on June 2 at Riau University's School of Social and Political Sciences (Antara/Rony Muharrman)
An activist has warned that mualaf, or new converts to Islam, had become the targets of extremist groups that sought to spread radical teachings in Indonesia.
Religious and Social Studies Institute (eLSA) researcher and activist Khoirul Anwar said that with their relatively low understanding of Islamic teachings, many new converts had been easily lured by the radical thinking that extremist groups spread.
"I saw such an indication at the Mualaf Center. I had an interesting experience in December 2016. I met with a mualaf who had been a Muslim only for six months. He was very enthusiastic when he spoke about the Islamic caliphate," Khoirul told The Jakarta Post on Monday.
The young man, Khoirul said, had expressed his wish to carry out jihad against infidels. "Even Indonesia, a democratic country, was considered an infidel country," he added, referring to what the young man had said.
The man claimed he did not have a special mentor that taught him a deeper understanding of Islam, said Khoirul. "Through the Internet, he met someone he later came to consider his 'brother', who 'helped' him  learn about jihad," the activist added.
Khoirul said that through his conversations with new converts, he became fully aware of how easy it was for someone to "become a radical". They were even ready to "become terrorists" only from reading online articles about Islam and watching YouTube videos, most of which contained messages of hate, he added.
"This is why it is important to spread writings and videos on Islam that contain messages of peace," said Khoirul.
He said eLSA's research also revealed that radical thinking had spread to senior high school students through extracurricular activities. Some external mentors had also influenced students to become radical through Islamic guidance and counselling activities.
At the beginning of the year, the Wahid Foundation, in partnership with eLSA Semarang, involved 15 schools in Semarang, Kendal, Salatiga and surrounding areas in a pilot program called "Sekolah Damai" (Peaceful Schools).
The program aims to curb the spread of radical teachings that encourage hatred against other groups or communities that might eventually lead to terror acts. Sekolah Damai teaches students and teachers to develop thoughts that embrace diversity toward creating peace. (ebf)